Hire a Guide for Your Tour or Program
Welcome to the San Francisco Tour Guide Guild's guide referral system! We give you access to the best tour guides in San Francisco–Certified Guides who have passed a rigorous exam of Bay Area history and have documented extensive experience leading tours in San Francisco, Muir Woods/Sausalito, the Wine Country, Monterey/Carmel, and other parts of Northern California.
This site has a simple process to connect you with the guides you need. Please review the information on this page regarding rates and conditions. After you click on the "Hire a Guide" button below we will ask you to provide information about your upcoming program, and we'll then be able to match you with guides whose skills meet your needs.
Rates
$250 for four hours (or less) of guiding time in English. And $50 hourly thereafter
$275 for fours hours (or less) of guiding time in a language other than English. And $55 hourly thereafter
Meet and Greets, Hospitality Desks, and services other than four-hour coach or walking tours are $35 per hour with a four-hour minimum for English speaking guides, and $40 per hour for foreign language guides
Airports: Reimbursement of a guide's travel time and parking expenses to and from airports is customary
Terms & Conditions for Hiring Guild Guides
As a tour operator, your "job announcement" will be forwarded to several experienced Guild-certified guides via the form you complete—so be sure to be as specific about your needs as possible.
Guides that are interested and available will contact you directly. You choose the guide that meets your needs.
Guild guides work as independent contractors and all hiring arrangements and expectations for performances should be made directly with each individual. The Guild receives no referral fees.
Frequently Asked Questions About San Francisco Tours
If you have logistical questions about operating San Francisco tours, here is some useful information for Tour Operators who may be less familiar with running tours in the San Francisco Bay Area. We believe this information to be accurate, but changes occur constantly, so it's always a good idea to confirm. Your local tour guide will be a great source of additional information and ideas.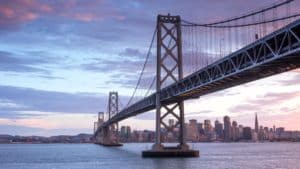 What are typical tours/excursions from San Francisco?
City tour—3-4 hours
Muir Woods/Sausalito—4-5 hours
Wine Country—8 hours
Alcatraz—2½ hours
Monterey/Carmel—10-12 hours
Chinatown walking tour—2 hours, or longer with lunch
Yosemite in a Day—14 hours (because this is such a long day trip, it is much better to stay overnight)
What is a typical city tour itinerary?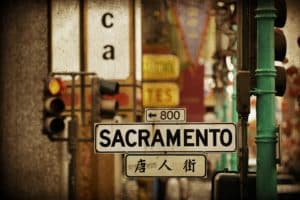 There are many options depending on length of tour, start and end locations, and your group's interests, but typical sites include: Fisherman's Wharf; Italian North Beach with views of Coit Tower on Telegraph Hill and the World's Crookedest Street (Lombard Street), Chinatown, Union Square (department stores and upscale boutiques), Civic Center (City Hall and other important public buildings), Alamo Square Victorian houses ("Full House" view), Twin Peaks city view (weather permitting), Golden Gate Park, Golden Gate Bridge, and Presidio National Park. Some other possibilities include AT&T Park, Haight Ashbury, Palace of Fine Arts and Nob Hill. The wealthy Pacific Heights and Sea Cliff neighborhoods are off limits to tour buses.
Where can we find more information about San Francisco hospitality vendors?
Please contact the San Francisco Travel Association, which has a wealth of information.
Are there restrictions for motorcoaches? Where can coaches park at night?
Some streets in San Francisco are off-limits to tour buses, either due to legal restrictions or because the hills are too steep. Your local tour guide will design a route for your city tour on allowed streets, but if you are bringing your own bus and your driver is less familiar with the city, you might want to follow this link to a website by the San Francisco Municipal Transportation Agency (SFMTA) called 'Tour Bus Information'. It also talks about places where tour buses can be parked at night.
Visits to Muir Woods are restricted to vehicles 35′ or shorter, due to mountain roads.
How do we schedule a bay cruise or a trip to Alcatraz?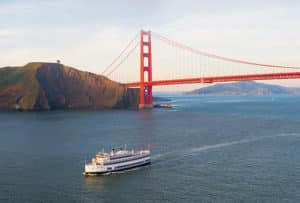 For a bay cruise contact the following companies:
There are also public ferries that groups can use, e.g., to return from Sausalito after a Muir Woods/Sausalito excursion. Providers are:
San Francisco Locations
Below are some popular San Francisco locations that have special logistics situations for tour groups.
Alcatraz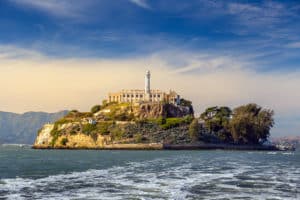 The National Park Service operates Alcatraz, and visitors use a recorded audio tour on the island (included in the ticket price). Private tour guides are not allowed to lead tours on Alcatraz. Only one company, AlcatrazCruises.com, takes people to the island on the ferry. Follow this link to the Group Tours portion of their website for information about ordering group tickets. Alcatraz is very popular, so you should buy tickets well in advance, preferably several months. Tickets are not mailed, rather, the group leader will pick them up shortly in advance of the sailing time.
Generally, allow 2½ hours for the entire Alcatraz visit, from sailing until return. Buses can drop and pick up guests directly on the ferry dock, Pier 33. Pier 33 is close enough to the restaurants and attractions at Fisherman's Wharf/Pier 39 that more mobile groups can walk between them, e.g., to visit Alcatraz and then have lunch at Pier 39. During the summer there is a shuttle service ($2/ride) or your motorcoach can make the transfer. Note: In the past Alcatraz ferries departed from Pier 41, but this is no longer true.
From the ferry dock on Alcatraz there is a rather long, steep uphill walk to the prison itself. A tram runs once/hour for those with mobility issues. More information can be found on the AlcatrazCruises website.
Note: For youth groups visiting Alcatraz there is a strict ratio enforced of one chaperone for every seven youth.
Cable Car Ride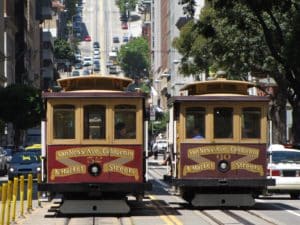 Groups will see cable cars during most city tours, but riding on one requires more time than is generally available during a city tour and is logistically difficult for large groups. Therefore, having a ride is better left to the guests to do in their free time.
Two cable car lines begin at Fisherman's Wharf and go to Union Square, but both can have long waits to get on. If you decide that a ride is to be included as part of a city tour, your guide will recommend use of the California Street line since there is little wait. The bus will drop at the beginning of the line and reposition to the other end. Cost is $7 per person (cash only), and generally no more than 25-30 people will be able to go at a time.
Coit Tower
The famous Coit Tower on top of Telegraph Hill cannot be visited by groups—the streets leading to it are narrow and off-limits to tour buses. Your tour guide can point to the tower and give commentary from a distance as driving past.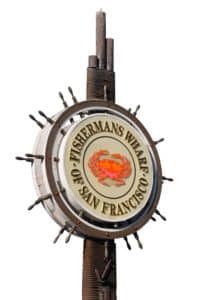 Fisherman's Wharf / Pier 39
This is the best spot for "scatter lunches" because of the multitude of restaurants and other food venues in a range of prices. Visitors can see the famous sea lions and great views of Alcatraz and the Golden Gate Bridge. Pier 39 is close to Pier 33 where Alcatraz visits begin and end.
Golden Gate Bridge
There are several good viewpoints for a stop at the Golden Gate Bridge. Your tour guide will suggest one. To walk across the bridge, about 1 hour is required and the walk is about 1¼ miles long (with the bus picking the group up on the other side). Therefore, most tours include a stop, but not a walk across the bridge.
Lombard Street (World's Crookedest Street)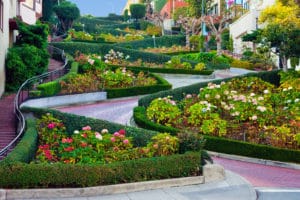 Open Popup (the crooked street) and the streets near it are off-limits to tour buses, so most tours point to it from a distance as driving past. If your group is mobile and time allows, your tour guide can lead the group closer, but the time required is generally not worth it. The walk would require a steep uphill climb and/or a steep downhill walk.
Twin Peaks
The panoramic view of the city from the top of Twin Peaks is fantastic on clear days. Most tours list this as a stop "weather permitting" since there is no reason to go if it's foggy.
Nearby Excursions
Muir Woods/Sausalito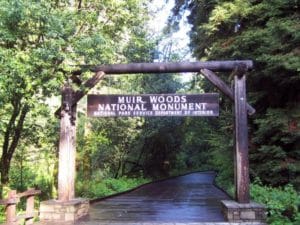 Muir Woods is a beautiful national park that is home to majestic giant redwood trees. Because the park is reached via mountain roads, buses longer than 35' are prohibited. Local tour operators and bus companies have fleets of vehicles that meet the requirement. Admission to the park is $5 per person ($7 effective 1-1-09). You can pre-order tickets or buy them on arrival. Click here to see the guide. Though Muir Woods can be crowded, it never "sells out" so advance tickets are not required.
To enhance the quiet, natural experience of being in the woods, the National Park Service does not allow private tour guides to lead groups through the park, so your guide will give commentary during the drive and then turn the group loose on arrival.
For youth groups there is no required ratio of chaperones to youth.
Muir Woods tours generally include a visit to the quaint waterfront town of Sausalito, which has a wide range of restaurants, art galleries and shops. An optional return is to take a ferry from Sausalito back to San Francisco. Muir Woods/Sausalito tours are generally 4-5 hours long.
Wine Country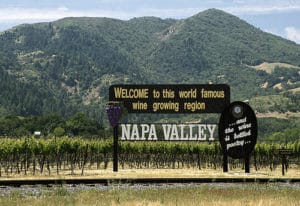 Sonoma Valley is one hour from San Francisco and Napa Valley is 90 minutes away; therefore, including visits to two wineries and lunch, this is generally a full-day excursion. Wineries can be very crowded, especially in the summer and on weekends and afternoons almost all year. Therefore, group reservations should be made well in advance, ideally several months. Almost all wineries charge tasting fees, which can vary greatly but are generally $10 per person.
An ideal spot for guests to have a "scatter lunch" is the Sonoma Plaza in the town of Sonoma, which has numerous restaurants and shops. In Napa Valley, a development called Vintage 1870 in Yountville is a good choice, with several restaurants in walking distance. Having the group eat together, e.g., in a wine cave or restaurant, is also possible.
Farther Afield
Monterey/Carmel/17-Mile Drive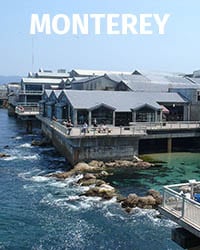 The historic town of Monterey, Cannery Row, the Monterey Bay Aquarium, Carmel, Pebble Beach, the Lone Cypress, and the scenic 17-Mile Drive are about 3 hours from San Francisco (including a restroom stop), so this can be done as a 10- to 12-hour day trip. Routing from San Francisco is often along the scenic Route 1 along the ocean, and then returning via the faster but less scenic Highway 101.
See the website of the Monterey Aquarium to purchase group tickets. Some tours skip the aquarium in the interest of time.
Admission to the scenic 17-Mile Drive is about $4.25 per person for tour groups. Motorcoaches accessing Carmel from the 17-Mile Drive must follow the truck route to Route 1 and then to the bus parking area next to the Carmel Plaza rather than exiting the 17-Mile Drive at the Carmel Gate.
Scatter lunches at Cannery Row near the Monterey Aquarium or in Carmel both work well, with numerous restaurant choices.
Yosemite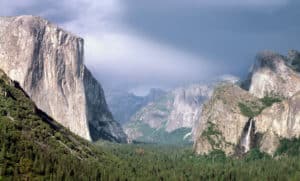 Yosemite National Park is a 4-5 hour drive from San Francisco. Though it can be done as a one-day trip, it is much more relaxing to stay overnight. Note that the approach to the park on Highway 140, which used to be popular with tour groups, is no longer accessible to vehicles longer than 28 feet. Alternates are highways 41 and 120. (Highway 120 used to be limited to 40' vehicles but is temporarily open to 45' vehicles.) The most popular destination in the park is Yosemite Valley, which is open all year to all vehicles. Two other popular spots, the Mariposa Grove of Big Trees and Glacier Point, are limited to vehicles of 40' and 30', respectively. Certain roads close for the winter, and tire chains are required for winter travel.
Admission to the park is $300 per motorcoach.
Visiting Yosemite is an incredible experience at any time of year, but please note that the famous waterfall Yosemite Falls dries up by late summer, so guests will not experience that attraction if your visit is in late summer or autumn.