San Francisco Tour Guide Guild – 2004 Programs
Computer History Museum
January 15, 2004
Our January 15th visit to the new Computer History Museum at 1401 N. Shoreline Blvd in Mountain View was more than a "Walk Through Visible Storage," as the title of the museum's brochure says. The history of computers came alive. It is awesome to consider the difference in size of a laptop to the size and very limited capabilities of the ENIAC (Electronic Numerical Integrator and Calculator), the ENVAC (1940), the JOHNIAC (1949) and the famous 1964 IBM computer 360.
Our knowledgeable docents led us through the fabulous exhibits of old computers from the ZUSE Z23 (German version) and the American computers from the 1940's through the 1970's.None of these computers had 'chips', even though they were available since 1959.
A commemorative plaque at 844 East Charleston Blvd. reminded us that Dr. Noyce at the Fairchild Co. had the idea to put on one chip what was originally planned to be on 18 memory chips. A Japanese company was willing to pay $64,000 for the design of a calculator using memory chips instead of mechanics. Luckily the Fairchild people realized that they had given birth to a baby with tremendous prospects. By not cashing the check they were able to keep ownership of the copyright. The rest is INTEL history.
Another piece of history started in the garage of the No. 369 Addison Street. Stanford professor Fredrick Terman encouraged his engineering students to become entrepreneurs. William Hewlett and David Packard did exactly that. They rented the house for both of their families and worked in the garage making audio oscillators, which they sold for $500 each. Disney's order for they film "Fantasia" gave them the boost for their company to take off and become H-P.
Saturated with computer history knowledge we approached Stanford University. The momentary shock of steep parking fees was alleviated by the opportunity to enjoy this beautiful campus in its spectacular setting.
Joan gave us a very fine introduction of the past and present of this fine university. She explained how and why the university was established and why some newer buildings in the 21st Century Technology quad bear the names of successful computer giants like William Hewlett, David Packard and William Gates.
After a pleasant break at the Tressider Student Union for lunch, the afternoon was spent with an afternoon stroll and docent led tour through the Cantor Center Museum of master works and the Rodin sculpture garden. It gave us an opportunity to relax and enjoy art, after the heavy dose of science.
Thank you Joan for arranging this most informative and enjoyable day. Thank you also to Renate Coombs and Ulla Kaprielian for driving. We were all glad not to have missed this great program.
By Wolfgang Borgstede
MUIR WOODS TRAINING TOUR
March 29, 2004
(For additional information please read the Muir Woods Tour Manual or check Muir Woods Visitor Center website)
Keep your cool and your sense of humor! Good advice for any tour guide. Ulla Kaprielian, Liz Burton and Jane Utsumi certainly did, keeping us entertained while we waited for the bus battery to be recharged. On our way to the Golden Gate Bridge we heard about money laundering at the St. Francis Hotel, historic Victorian homes along Franklin St., and the Flood mansions, now schools, in Pacific Heights. Entering the Presidio we were surprised to see how far the construction of the Lucas Film buildings has progressed.
As we drove across the Golden Gate Bridge, the fog obscured our view of the city. Since there was no time to stop at Vista Point, Liz described the new Lone Sailor monument, unveiled last year. It is dedicated to all members of seagoing services. There are plaques by different artists in a circle around the statue.
Commentary about Muir Woods needs to be given on the way since it is not allowed in the park. Liz discussed the biological history of the Coast Redwoods (Sequoia Sempervirens), descendants of the Swamp Cypress; a tree that already existed during the time of dinosaurs. The heavy fog along the coast is the perfect climate for the redwoods. Next we learned about William Kent who saved the trees of Redwood Canyon from logging by purchasing the area for $45,000. President Roosevelt designated this narrow canyon a National Monument in 1908 and it was William Kent who requested that it be called Muir Woods.
Entering the park, we were met by Mia Monroe, chief ranger and Christopher Dunn bier, Asst. Manager of the Visitor Center. Mia stressed the importance of "setting the stage" for our visitors with our commentary on the way to Muir Woods. Christopher suggested, that if we have tickets ahead of time, to distribute them so that each guest so that they can present it at the booth in exchange for a brochure.
As visitors pass under the arch, park rules apply: no smoking, no eating, no picking leaves, stay on the trail, and 'library voices' please. The wooden boardwalks, ADA compliant and made from recycled materials, are not completed. As a result, 9000 square feet of land was given back to the park. Nineteen more wayside exhibits, from the café to bridge two and in Cathedral Grove, are still planned. The crosscut has been restored (it went to the tree spa!). The large circle with examples of other surviving members of the Taxodiaceae family is the diameter of an average Coast Redwood! This is as far as we can give commentary. Restrooms have been relocated and are now adjacent to the concession stand.
Vegetation Management is under way around the park area. Non native trees are being replaced by native species. A study is trying to find ways to decrease congestion on roads leading to the park. In the future, parking areas may be moved, and reservations required. Nothing is final as yet.
As a special treat Andrea Papdopulos, Event Coordinator, welcomed us to the Pelican Inn and provided us with a wonderful lunch. The Inn has a cozy English pub, large dining room and outdoor eating area. There are 7 guest rooms upstairs, making it a great place for a romantic getaway.
We had a short visit to Sausalito before returning to the City.
Thank you Liz, Ulla for a wonderful day. A special thanks to Mercury Tours and our driver Steve.
By Barbara Dimas
FERRY PLAZA WALKING TOUR
March 31, 2004
Our first collaborative effort with City Guides was an enormous success, due to the enthusiasm of our tour guide, Rob Spoor, and the 18 Guild members that joined him to learn about this national historic landmark.
In 1898 the Ferry Building was the largest building in San Francisco and defined its skyline. It was the second busiest transit terminal in the world, next to London's Charing Cross. At the height of transportation in 1930, the Ferry Building was host to up to 50 million passengers a year, riding the ferries throughout the Bay Area. Luckily, the building did not burn in 1906. It remained intact due to the strong design elements. The building sits on 5000 Oregon pine trees and is based on a structural steel skeleton. The piers were built with reinforced concrete.
When the Bay and Golden Gate Bridges opened, 1936 and 1937 respectively, the appeal of using ferries came to an end. It spelled doom for the Ferry Plaza. There was lots of political pressure to force people into their cars and collect toll money.
Rob took us across the street for a closer look at the Beaux Arts architecture. The designer, A. Page Brown, dies 2 years into the project, when he was thrown from a carriage. The building is aligned with the waterfront rather than Market Street. When you look at it straight on, there is a distinctive "off kilter" look to it. The building is 660 feet long, longer than 2 football fields. The four-sided clock tower is 235 feet tall and modeled after a similar tower in Spain. The clocks stopped during the 1906 and the 1989 earthquakes. Each time they were restarted with great ceremony. 'Rob pointed out the metallic sculptures. They serve as light cannons that shine 600 feet in the air…great effect for special parties and events.
On the second level of the Ferry Building we admired the original 1898 mosaic of the Great Seal of California. Back we went downstairs to get into the groove of the new gourmet food lover's promenade. Much research was done in farmer's markets throughout Europe to get the measurements correct for the stall sizes. Look down, and you will see how the floor tile pattern acts as a guideline between vendors. There are so many unique and organic local producers lining this promenade, selling mushrooms, chocolate, meats, seafood, cheese, olive oil, breads, pastries, flowers, wine, delicatessens. The restaurants pledge to buy a percentage of their food from these local producers.
The Center for Urban Education about Sustainable Agriculture (CUESA) sponsors the open-air farmer's market on Tuesday, Thursday, Saturday, and Sunday. The most successful day is Saturday, a feast for the senses as the area is filled with local producers of gourmet foods in front and back of the Ferry Plaza. These market days are becoming so popular with locals and chefs alike, that programs on the Food Network and others, are featuring the Ferry Plaza as a destination location, "the place to shop and visit" when in San Francisco, bringing more tourists to visit our great city, as we all know, for the FOOD.
BY Jane Utsumi
OAKLAND TOUR – "The Second Gold Rush"
April 8, 2004
The California "Goldrush" brought about 300,000 people out west following James Marshall's discovery. Another 300,000 came during the 1930's, the Dust Bowl years. That seems like a lot of, but during the WWII years of 1940-47 about 25 million people or 21% of the nation changed location, from the rural areas to the urban environment and from the northeast to the south and west. We can truly speak of a Second Gold Rush. There was a similar occurrence in Silicon Valley during the 1990's. When the hi-tech boom busted, San Francisco's population dropped by about 1.3%.
From 1940-43 the net population increase on the West Coast was 850,000 in great measure due to one man, Henry J. Kaiser. He launched more ships than any other builder, headed the first West Coast steel manufacturing company, completed construction projects like the Hoover and Grand Coulee dams, and developed a health care organization. Henry J. Kaiser was a workaholic who truly loved what he was doing. He expected much from all his workers but he also appreciated their efforts. In his lifetime he established 90 companies worldwide. He was always "doing things and getting things done." His favorite color was pink. Some of us remember pink Kaiser cement trucks. It is remarkable that his only lasting legacy is the Kaiser Permanente Health Care System. The idea for it came from his realization that a healthy worker would also be a more productive worker.
The problem, of course, was that when the war ended, thousands of jobs disappeared overnight. We are still trying to cope with the problems that resulted, namely unemployment and social issues. The relocation of African Americans from the south, needed for shipbuilding, completely changed the politics and racial structures of the East Bay. In Oakland, positive changes finally began under the first black mayor, Lionel J. Wilson. BART construction tore the city apart and made way for the recreation of the downtown area.
The city of Richmond has not been so fortunate. This is not to say that Richmond has nothing of interest, as we heard from Donald Bastin, historian and author of "Images of America – Richmond." We met Donald at the Museum of History in Richmond, a 1910 building which originally housed the library and was built with a Carnegie grant. Many artifacts and pictures show the history of the town.
Some sites of historic interest are the East Brother Lighthouse (1873). It was a family-run operation; the Stenmark family lived there for 20 years. It was automated in 1968 and is now operated as bed & breakfast. Winehaven (1907) at Point Molate once boasted to be the largest winery in the world. The first Santa Fe Railroad departed for Chicago in July 1900, establishing the city on the continental rail line. The Pullman Co. (1910) repaired and repainted the elegant sleeping cars. Standard Oil has been in operation here since 1907. The Ford Plant was built in 1931 and operated until 1959.
Our next stop took us to the "SS Red Oak Victory," built in November 1944, one of 747 ships to be constructed in record time at one of the four Kaiser shipyards. She served in the Pacific, Korean conflict and again in Vietnam. Finally, in 1985 she was written off for scrap. The Red Oak, now owned by the city of Richmond, is slowly being restored, totally by volunteers. You can always tell a victory ship built by Kaiser by the use of wood for beds, doors etc. During our visit there were many stairs to be mastered and many details explained to us, too numerous to mention here. You can go and visit the Red Oak any time; they would love to have you. (Tel. 510-237-2933)
The Rosie the Riveter Memorial honors the women workforce of the 1940's. The force grew from 10 million to 18 million in 5 years. The unemployment rate went from 17.2% down to 1.9%; the gross national product went from $90 billion to $213 billion. During these years income tax payments rose from $7.8 million to $48 million. I enjoyed reading one woman's memory of the fact that most of them received raises out of fear that they would leave their job to go work in the defense industry.
Our last stop was the Oakland Museum to view the special exhibit about Henry J. Kaiser to learn more about the man and his achievements.
Thank you Renate for once again showing us the important role the city of Oakland and the East Bay in the Bay Area.
By Ulla Kaprielian; program organized by Renate Coombs
CHINATOWN WALK TRAINING TOUR
April 12, 2004
One fine Monday morning in April 12 enthusiastic tour guides and "wannabes", eager to absorb Marilyn's wisdom, gathered near the "Gates of Heaven" at Bush and Grant Sts. We were about to explore the largest and oldest Chinese settlement outside of Asia.
Beginning in 1849, attracted by the Gold Rush, some 749 men and 2 women settled here. More came to work on the railroad construction and the cultivation of the Wine Country. The settlement grew into an area of 8 blocks in length and 3 blocks wide, with a population of 35-50,000, depending on who you ask, or which book you read.
The gate was designed in 1970; the Taiwan government donated authentic building materials, and it was dedicated in 1972. It is based upon ceremonial entrances to Chinese villages, symbolizing auspicious fortunes, with Foo dogs, one male and one female, keeping away evil spirits.
As we strolled along Grant Avenue, originally called Dupont Street, Marilyn pointed out the diverse architecture, Occident meets Orient, creating a unique style, now known as chinoiserie. There are painted balconies, curved tile rooflines, staggered towers with predominantly red, green and yellow color scheme, indicating happiness, long life and loyalty.
At California & Grant we visited Old St. Mary's, which began as a Cathedral in 1854 and was the seat of the Archdiocese. At the time it was the largest building in California. The somber inscription on the exterior of the bell tower: "Son, observe the time and fly from evil", was reputedly aimed at the gambling houses and brothels around here. Sadly, the old church was entirely gutted by the great conflagration in 1906. The Gothic revival structure was re-designated a church following construction of a new St. Mary's Cathedral in 1891 at Van Ness & O'Farrell.
Our next stop was Quincy Alley, at St. Mary's Square Park. You will be pleased to learn that the total renovation of this tranquil park is almost complete, even with a French loo! Bring quarters!!
Here stands one of several statues in San Francisco by Beniamino Bufano, depicting Sun Yat-Sen, the founder of the First Democratic Republic of China, freeing the Chinese from the Manchu Dynasty in 1911.
Here stands one of several statues in San Francisco by Beniamino Bufano, depicting Sun Yat-Sen, the founder of the First Democratic Republic of China, freeing the Chinese from the Manchu Dynasty in 1911.
On our way up Sacramento toward Stockton, we passed Waverly Place, pausing briefly to catch our breath and to notice the First Chinese Baptist Church, built in 1888 and destroyed by the fire in 1906.
The Chinese Presbyterian Mission, or more popularly known as the Donalinda Cameron House, is at #920 Sacramento St. It is named after the most influential protector of Chinese girls, seeking refuge from enforced prostitution and abusive employers.
Then, as now, the people of Chinatown live a very self-contained life; they have their own banks, savings & loan, churches, hospital, physicians and social support. There are restaurants, fishmongers, grocery stores, and, of course, many herb shops. Most of the older generation speaks little or no English.
At 843 Stockton, guarded by 2 Foo dogs, stands the Chinese Six Companies building, headquarters of the Chinese Consolidated Benevolent Society, established in 1854 to aid new immigrants with all their legal and social matters. Almost next door we halted to look at the Chinese Presbyterian Church, built right after the 1906 earthquake. The building makes no concession to Oriental design and looks a little out of place on this congested commercial street. Church services are held in 3 languages Mandarin, Cantonese and English.
Returning to Jackson St., we entered the infamous Ross Alley, to this day known as Lu Song Hang among old Chinatown residents. It was once "Spanish Lane", a reference to Hispanic "Ladies of the night" who plied their trade in the brothels and gambling joints here in the 19th century. Nowadays it is more likely to be the destination for visitors looking for the famous Fortune Cookies of the Golden Gate Fortune Cookies Co. Next door is Larry Ching's old fashioned barber shop, who over the years served many famous visitors from the entertainment world, such as Frank Sinatra, Michael Douglas, Matt Dillon and the late Peter Ustinov, to name a few.
From here we crossed Washington St. to enter Waverly Place the two-block alley, known as the street of the "Painted Balconies". It is also dubbed "Tin How Miu Gai", or Queen of Heaven Temple Street,
By Otto Lissfeld
Take a Magical History Tour
May 22, 2004
Join your guide, Malcolm Nicoll and your fellow colleagues for a historic tour of two exquisite monuments- Mountain View Cemetery and Chapel of the Chimes in Oakland.
Our tour starts at Mountain View Cemetery designed by Frederick Law Olmsted, where you'll be up front and close with all the visionaries, movers and shakers. The experience will be like shaking hands with Charles Crocker or hearing Julia Morgan rhapsodize about her design for Hearst castle. Or take in the magnificent funerary art and the breath-taking vista of San Francisco Bay.
Next, we'll tour historic Chapel of the Chimes, exquisitely designed by Julia Morgan and others. Now recognized as an historic monument both locally and nationally, beautiful gardens, intimate alcoves, elegant stairwells, flowing fountains and cozy chapels rising into vaulted ceilings and illuminated by natural light await you!
As this tour entails a great deal of walking, sturdy, closed-toe shoes or hiking boots are highly recommended. We recommend driving directly to the site, which is a one mile walk from the MacArthur BART station. Should you be interested in carpooling from San Francisco or other locations, please let Malcolm know with your reservation.
Light refreshments will be served midway through the tour.
San Francisco City Training Tour
June 9, 2004
As the clock neared 8:55am, the coach was full of enthusiastic tour guides chatting affably with one another as old friends and new acquaintances mingled on that bright day in San Francisco. Mary McCoy dressed smartly and professionally extended a warm welcome to each one of us. Mary was prepared. She handed out an itinerary of the tour and a knowledge-based sheet of suggestions for various approaches to giving a San Francisco City Tour. Our confidence and admiration rose as she skillfully took us along with her on a tour of a city we all loved and treasured. As any good tour guide would do, Mary introduced herself and our driver and thanked us for coming. And then we were off.
As we navigated through the morning's traffic, Mary began to weave a tale of what it was like to grow up in The City by the Bay. She talked about the architecture, landmarks, and houses representative of the eclectic nature of a large evolved city like San Francisco. As we rode through different neighborhoods, she would point to the street she walked to go to school or where some memory was stirred by the site of a particular park. We were not just given a tour of The City, we were given an insight into what it was like to live and be part of the very heartbeat of a city like San Francisco. As big as it is, Mary make The City a place where families turned streets into neighborhoods and children turned play time into memories.
Anyone can give a tour of The City and tell you the statistical make up of population, average temperature, and yearly rainfall. But Mary brings you with her along the memory lane of her experience of The City from the heart, mind and soul of a native, born and bred by San Francisco.
By Paulette Lagana
Inner Sunset Walking Tour
June 13, 2004
Australia may have its "Outback" but we in San Francisco have our "Outside Lands"! More popularly known today as the Sunset District; the history, lore and fascination of this engaging neighborhood came to life for the guides and guests of Lorri Ungaretti's Inner Sunset Walking Tour.
On June 13, Lori charmed us with her insider's knowledge of this once wasted land and how its development embraced many notables of SF history, whose actions were not always notable, and several of whom we should know, but got lost in general history sketches.
A tour of parts of the UCSF Medical Center took us into reserved inner quarters where we were awed by the beauty and history of seldom seen historical murals. Lorri's detailed explanation of portions of the murals is a mini history of medicine in the Bay Area.
The deceptive false fronts of building and the naming and renaming of the streets was colorfully detailed as we came to understand such nuances as why for example, the First Street was changed to Arguello. Photographs and excerpts from Lorri's recently published book, San Francisco's Sunset District, added memorable emphasis to this two hour Guild Tour, leaving many of us wanting more.
If you have ever dreaded those Sunday City Tours because you couldn't cruise down Kennedy Drive in the Golden Gate Park, you have not taken this tour of the Sunset. Judah street has a whole new meaning and liveliness to this neighborhood after learning about its history, inviting you to take a stroll.
By Mary Ann Sams
Victorian Homes Tour
July 7, 2004
On July 7, 2004, the SFTGG Program was led by ace tour director and guide, Andy Hartman. Sponsored by City Guides for SFTGG, Andy led 21 tour guide wannabe's and guests on a wonderful tour of San Francisco's Victorian Homes.
The two-hour tour kept us all intrigued with the variety of architectural styles and beauty of these old homes in what is basically a ten block area of San Francisco. We started out on Bush and Octavia at the Mystery House (with a wonderful tale of Mary Pleasant, former slave and mistress) and ended up at Lafayette Park between Washington and Sacramento. But more about the homes later!
As this was a combination training and educational tour, Andy gave us some great tips on ways to hold your audience in a noisy, high traffic area. Andy's Rule #1: Initially place yourself against a building and get the crowd to come in close to you, facing the building. Then, if pointing out something across the street, walk through your group and have them turn toward the street to view what you want them to see. Andy's Rule #2: When talking to a group where you are all looking at the same thing, be aware of looking up periodically but talking only when you turn to face your group. It's easy to get caught up in the site and talk to "it" instead of the group.
Andy modeled other "guiding principles" that were not stressed but, rather observed as a tour participant. For example, (1) know your audience and what they want to get out of the tour, (2) know your subject well and rehearse it, (3) have some visual aids such as a notebook with appropriate plastic covered photos which can be passed around, (4) be enthusiastic about your subject, (5) insert humor to keep things light, (6) ask frequently if there are any questions, (7) allow someone with special knowledge to "have the floor" for a short time–but keep control, (8) be aware that you don't need to have all the answers, (9) if you're having fun, most likely the group is too!
Now back to my notes about those impeccably groomed "painted ladies." What glorious architecture existed in San Francisco in the late 1800's! The homes were built in those boom times when merchants, railroad barons, bankers and generally wealthy East Coast transplants moved to The City. The first phase of Victorian architecture was called, "Italianate," Often built of impervious redwood, these homes had false-fronts (to look more grand than they really were), with bay windows to allow more light into the home. The true test of authenticity was that the bay windows had five sides facing the street. As many of the wealthy homeowners were well traveled, the "Italianate" style was brought to America to mimic buildings in Italy and Greece.
We also learned that some of these building had teeth! Actually called dentals, they are the squared off ornaments along the roof-line that look more like piano keys. As a home owned by Mrs. Atherton (on California and Octavia) had strips of gold on the ornamental dentals, one could say there was "gold in them 'thar teeth."
Andy told many stories of ways in which the wealthy were committed to "one upmanship" to impress their upscale neighbors. There was a front formal entrance for visitors where the best furniture was displayed and a back or side entrance for servants or family where lesser pieces were used.
Also, as streets during the 1800's were muddy and often filled with sewage, the grand entries were on the second floor. There were some "flats" on the first floor, however, but most have been replaced by garages. The cost today to make the construction change is approximately $100,000–a pricey parking place, for sure!
Now on the second phase of building which was called "Stick Style" (or Eastlake after the renowned furniture maker of the time, Charles Eastlake). These homes can be identified by noting their asymmetry, scalloped shingles and boards applied over clapboard surfaces. These homes had a great deal of ornamental elements to it. So, much like its predecessor Home Depot, enterprising builders mass produced them to keep the costs low.
The third phase is Queen Ann style characterized by the use of contrasting building materials between upper and lower stories, gabled peaks and turrets. These "grande dames" were considered elegant, sophisticated evidence of the owner's wealth and position. But, after Queen Victoria died in 1901, her son, Edward hailed the coming of the "Edwardian" area and the home styles changed. With changes in building technology, glass could now be bent into the convex shape of the arched bay window. Three-sided windows and less ornamentation became the style. Simplicity was "in" and the fashion became more square and solid homes with classical motifs.
There are approximately 3000 "Italianate" homes, 3000 "Stick" style homes and almost 6000 Queen Ann's in San Francisco. Prices in the 1800's for these beautiful estates was around $3000—a fortune then, certainly. Today, even the smallest Victorian home is worth at least $1.5 million. Still, the prestigious neighborhood was as important then as it is now and this ten-block area of The City boasts "location, location, location!"
By Pat Schally
NAPA Valley Wine Country Tour
July 19, 2004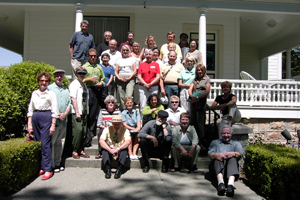 Though this was promoted as a tour of the wine country as a training tool for the 30 participating tour directors, we were treated to a bonus on the trip up to the Napa Valley. Jane Utsumi, Program Chair of the SFTGG pointed out key sights in San Francisco: Moscone Center, Financial District, China Town, Union Street and a brief side trip to Crissy Field. She told us that the Crissy Field Center is a good place for lunch when conducting an all day SF City tour. Jane's experience is that the food is very good, parking is easy and it has restrooms for groups.
We discussed topics to cover in the drive from the GG Bridge to the fist winery. Jane surprised us with a hilarious old "I Love Lucy" featuring Lucy at a winery stomping grapes. It was a very clever "filler" and set the stage for our upcoming tour of the wine country. We knew we were in for a good time!
Jane arranged for two extraordinary and knowledgeable guides to join us; Brian Beer and Maureen Grinnell who are members of the Napa Valley Tour Guide Association. Together, they provided verbal and written information, which we eagerly absorbed along with the wine tastings!
Our luxury motor coach pulled into our first winery Artesa (pronounced, "R-Tessa."). It is described as a "jewel set into a hilltop." It commands panoramic views of the Napa Valley, Carneros Region and the San Francisco Bay. And, what a breathtaking view it is! Walking up to Artesa, visitors are awed by the sight of water cascading down the stairways. Only after mounting the steep stairway to the plaza can the visitors see the source of the water and the entry doors dug into the hillside and covered with native grasses.
Our Artesa guide explained that the wines produced there require the mild, breezy climate of this region for the growth of their wonderful pinot noir and chardonnay wines. Considered one of the best-kept secrets of the Napa Valley, Artesa should be one of the top wineries to visit in the wine country.
Onward to Vintage 1870 in Yountville where we were given a special tour of the unique shops, art studios and restaurants at this site. After a tasting in their Wine Cellar, we were served a spectacular lunch on the shaded open patio.
After our luncheon stop, it was back to the motor coach for a short drive to the St. Supery Winery and Wine Discovery Center. There our French/American guide, Denise, took us on a whirlwind tour of this historic winery. Of course, that meant a tour of the historic Queen Anne Victorian mansion known as the Atkinson House. It has been faithfully restored and is maintained as a living museum of the 1880's. The wide stairway to the mansion was a perfect place for a "Kodak moment" in which our entire group was photographed.
After viewing the architectural splendor of the mansion, we were treated to a remarkable wine museum and tour of the winemaking facilities. The tour started with the crush pad, then to the fermentation room, the stabilization area and, finally, the barrel room where the wines are aged in oak barrels. A unique feature of St. Supery is the "smell-a-vision." Here we could inhale the characteristic aromas of Sauvignon Blanc and Cabernet Sauvignon.
On our return trip, our happy group was given an in-depth tour of the Napa Valley with Maureen pointing out various wineries, famous homes and local gossip. Then it was on to the town of Napa were Brian told all about Copia. This is the valley's center for wine, food and the arts. Unfortunately, time was too short for a tour but Brian (also a docent at Copia) emphasized that this is an extraordinary destination for group tours.
Before Brian and Maureen left us, they handed out packets of information put together with the assistance of the Napa Valley Visitors Bureau. We were also informed of key websites for further research. They are: www.napavalley.com, www.napavintners.com and www.napavalleyonline.com.
If we thought we knew a fair amount about the Napa Valley and San Francisco, this tour reminded us that we're on a continuous journey of learning. Aren't we fortunate to live within the San Francisco Bay Area?
By Dick Schally
Rising Steel – Two Centuries of San Francisco Architecture
August 15, 2004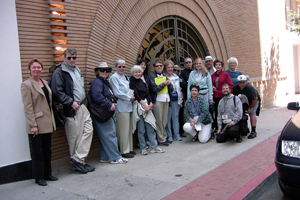 Quiz questions that were answered on this tour:
1. Where is the only building designed by Frank Lloyd Wright in San Francisco?
2. How was San Francisco Architecture different after the Earthquake and Fire?
3. What and where is the Jewel Box?
4. In terms of architectural history, what is the most important building in San Francisco?
The answers to these questions and many more were expertly presented by Jason Cohen on our "thirty buildings in two hours walking tour". Jason is a transplanted Chicago architectural docent and current volunteer San Francisco City Guide. He is articulate and very knowledgeable. It was a glorious sunny Sunday morning, and I loved walking with fellow tour guides from Maiden Lane to Market Street. Predominating themes of the tour were 1. architectural responses to larger and taller buildings during the 19th and 20th centuries; and 2. movement away from Victorian Architecture. We were reminded to "look up" in order to appreciate the beauty and details of buildings. San Francisco is a fascinating study of the evolution of urban architecture. The following comments cover only some high points. I encourage all tour guides to take this tour, read, and walk with your heads up.
Highlights of the tour included the Xanadu Gallery at 140 Maiden Lane. This is the only Frank Lloyd Wright Building in San Francisco. He designed it in 1948 when he was 80 years old. It was a transformation of a 1922 warehouse and features a spiral ramp and skylights, a smaller version of the one he designed for the Guggenheim in New York. The arch was inspired by Henry Hobson Richardson, creator of the Richardsonian Romanesque style. Frank Lloyd Wright's signature is visible on the front.
A Victorian city burned in 1906, and a new modern city rose in its place. Like Chicago after its fire, architects and builders flocked to San Francisco. Albert Pissis designed many buildings including the White House Department Store (built in 1908) at 255 Sutter Street, the Hibernia Bank, and the beautiful neoclassical building at 1 Sansome Street. The White House was once one of two major French department stores. In 1968, in an unusual preservation strategy, its upper floors were converted into a parking garage. Willis Polk designed many Chicago Style office buildings, as well as Filoli and the Bourn Mansion. His glass fronted Halladie Building (1917) at 130 Sutter is considered both a radical masterpiece and the most architecturally historic building in the city because of its "glass curtain", which stands a foot in front of the reinforced concrete frame of the structure. The Medical Arts Building (1929) at 450 Sutter Street, designed by Timothy Pflueger is an excellent example of Art Deco style. Architectural note- he also designed the Paramount Theater in Oakland. The Hunter-Dulin Building at 111 Sutter Street, built in 1926, features early examples of Terra cotta which made ornamentation much easier. Novelist Dashiel Hammett placed his private eye Sam Spade's office in this building whose lobby is considered "pseudo-medieval".
The "Jewel Box" on the corner of Grant Avenue and Sutter was built in 1907, stands out in contrast to neighboring buildings with its Victorian colors and music box and lid appearance. All the buildings and their stories were interesting. Unfortunately time and space constraints prevent giving details of each. The Mills and Russ buildings are of major significance. The Mills Building (1891) at 220 Montgomery Street is the only surviving pre-fire skyscraper. The Russ Building (1927) at 235 Montgomery street with its 31 stories, was the tallest build ling on the West Coast until 1964. When built, it was considered a modern marvel and was the first building to have a parking garage beneath its Gothic exterior. The set back upper floors created a "wedding cake" effect. This was inspired by an ordinance in New York City which insisted that sunlight reach lower floors.
Other fascinating and new sights for me were the "Grim Reaper", statues on top of 580 California Street and the "Hypodermic Needle" atop 505 Montgomery Street. These unusual features were the result of Proposition M in 1986 which decreed that roofs of new buildings should be distinctive. The Mechanics Monument at Bush and Market with its sculpture by Douglas Tilde was moving.
We concluded our tour at the Shell, Heineman, and Crown-Zellerbach buildings on Bush near Market. Across from these wonderful buildings, and in marked contrast, we viewed what Jason called "refrigerator buildings". In the distance we could see SOMA (south of Market Street) where most of the current building is taking place. As this area transforms, City Guides will be offering tours there as well.
Thank you Jane, for another wonderful program. Books I would recommend for further study are: the National Trust Guide for San Francisco, San Francisco Architecture by Sally and John Woodbridge, and Walks and Tours in San Francisco by Randolph Delehanty.
By Maureen Grinnell
Academy of Sciences & Society of California Pioneers
August 27, 2004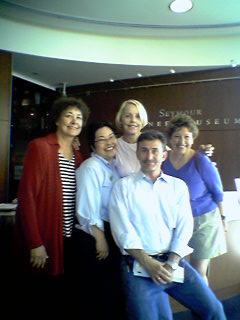 It was a beautiful Friday afternoon. A group of 11 eager SFTGG members met to learn about the new downtown Academy of Sciences and the Society of California Pioneers. A perfect outing since both facilities are located just a few blocks from each other. We started at the Academy where we were met by none other that Craig Smith's nephew Scott C. Moran. The family resemblance was obvious. Craig was not there to join us and was certainly missed. After a brief introduction and overview by our gracious leaders Susan Guerguy and Jane Utsumi, who planned and executed our excursion, we had the privilege of being hosted and taken on a private tour by Scott who is the Transition Project Manager for the Academy of Sciences.
The original Academy of Sciences was built in 1906 after the earthquake and was located on Market Street next to the former Emporium.
The building we were about to discover was built in the 1940s and was a warehouse for the Emporium. It has very strong floors "Scott explained"; that is why it was chosen by the Academy of Sciences as their temporary venue for the next four years until the re-opening of the Academy of Sciences in Golden Gate Park in the summer of 2008.
The building on Howard across the street from Moscone East was retrofitted by one of the Dot–Com companies in the 1990s that went belly up and left the landlord with an empty building. The expense for the Academy of Sciences move was absorbed by the capital campaign that funds the building of the new Academy at the park. With its six stories (2 are open to the public) and a total of 200 thousand square feet it offered the perfect solution. The last of the move was completed August 27th 2004 to give way to the demolition of the old and re–construction of the new.
As we continued on the first level of the building we saw the most amazing Ant exhibit and Scott explained to us all the different Ant species and their habitats, WOW!
In front of us was a fabulous coral reef tank that will be removed in 2008 when the Academy moves back to the GG Park. Then on to the round tide pool where a staff person is stationed in the middle to assist visitors with their curiosities. Aquariums with giant fish are located throughout and the Penguins have their own special area. They were a lively bunch and quite happy in their new habitat, "we have never seen them so active," Scott said. Looking around you can see how well the space is laid out, leaving nothing to chance. At our final stop, the design details of the snake habitat stimulated our senses.
The second floor opened up in front of us after ascending the stairwell. There are, of course, elevators for those who have physical challenges and easy access to all areas. As we went on we heard about NASA and the exploration of Planets and new organisms. We went to the classroom, which is a 1920-1930 style historic room with scientific tools and discoveries that are wonderful to look at. The Naturalist Center, focused on California, is a must. These library and specimen collections are open and available to members and the public. We found out the 45 volunteers help to reference items and on a busy day 640 guests including school groups visit the center. Six computer stations are available for research.
The new Academy of Sciences that will open in 2008 is being built by the Italian Architect Renzo Piano. What more can be said! We are in good hands, it will be beautiful. Renzo's vision is a Natural History Museum that reflects natural history. It will be a Green Facility. The plans have received a platinum rating, the highest for this type of building. I hope that your curiosity has been sparked. The website has virtual plans of what is to come.
Our visit had come to an end. We said goodbye to Scott and thanked him for sharing his knowledge and enthusiasm.
Next was the Society of California Pioneers, where we were welcomed by Vicky Wiese, Event Coordinator. Vicky led us into the main gallery on the first floor where we marveled at the current exhibit of "The King's Orphans" 1842-1843 and received a general introduction about the Society. Peter Flagg, the Director of the Museum then became our guide and main source of information. Peter spoke about the exhibit and gave us insight about G.M. Waseurtz af Sandels and the artist's life, Peter continued by informing us about the Society of California Pioneers.
The Society of California Pioneers was founded by pre-Gold Rush pioneers and is perpetuated by direct descendants of those who arrived in California before 1850. The mission of the Society is to preserve, promote and enjoy California heritage through a research library, a museum, a gallery, educational and social activities, and to commemorate those whose sagacity, enterprise, and love of independence induced them to settle in the wilderness and become founders of a new state." (Excerpt from the website)
Today the Society has some 1400 members many descendents of the original founders from 154 years ago. The new building is located at 300 Folsom, corner of 4th Street and was opened in 2000 and owned by the Society.
We continued via elevator to the second floor were we saw at another exhibit owned by the Society, about Northern California painters examining the diverse landscapes of our region. Peter explained that the exhibits rotate on a regular basis therefore you will always experience something different. This Gallery is also available for special events at a capacity of 48 for a sit down or 100 for a cocktail reception; we had to ask of course!
Our last stop was the Library. This is where the City Directories are located and many books about California history from the period of 1850-1920. Many of the books have come from private estates and have been given to the Society for all of us to enjoy. You and I are able to tap into this wonderful resource by appointment only, Wednesdays preferred, since a staff person has to be scheduled to assist you with the archives and books.
If you would like to see a bell dating back to the time of the vigilantes this is the place to come. "The bell comes from Clay Street" Peter mentioned; and there is more to this story for you to find out.
As we came to the end of our day we thanked our gracious hosts Vicky and Peter for their knowledge and hospitality.
We mentioned that they would probably have a few of us visiting once the word got out.
By Michael Stortz and Kate Johnson
Main Library Tour & City Guides
September 2, 2004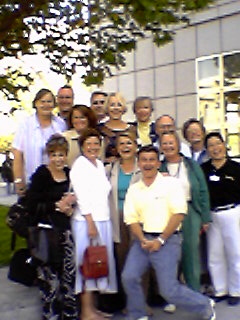 I thought I knew all about the San Francisco Main Library. After all, I've been doing this for a while, and we pass by it all the time on a city tour. But let's be honest — When we drive by the Civic Center, what is the main focus of our tour? Duh, it's City Hall. We talk as much as we can about it before boring our tourists to death, and it's hard to squeeze much more in about the library than:
"See that outdoor sculpture? It doesn't use electricity to move. That building is our Main Library. It used to be housed in that other building just beyond it, which is now the Asian Art Museum. Which used to be Golden Gate Park, which we will see later. The SF Main Library was the first to have Internet access–"
At this point, all your tourists heads swing to the left, i.e., the driver's side of the bus, because who can ignore the beauty, the majesty, the magnetic pull of City Hall? You stop talking about the Library, because how can it compete? You cave in, because like any good tour guide, you give the people what they want.
But let's say you have a little more time. Let's say it is not a City Highlights Tour, within a ridiculously short two hours. And that you have enough time to stop the bus and let your people get out, stretch their legs, and take photos. Now you have more time. Some of your people are a bit more inquisitive, and obviously want to learn more. You realize that you are able to burn through your material very quickly, and they keep asking questions. What to do now?
If I were a Smart Alec, I would say do what we did — go on the City Guides tour of the library, led by Rob Spoor, which was excellent. But since you weren't there, and I am, repeat, Not A Smart Alec, I will give you a few highlights.
First, a little history. The main thing to remember is, throughout the Main Library's history, there was never enough room for it's books. There were friends of the library who existed before they were officially called Friends of the Library, and they started the library exclusively through donations of books. Later, when an earlier edition of our famed, domed, City Hall was being built, the Friends of the Library asked to be a part of it.
They were, but, rather unfortunately, City Hall burnt down. All the books, except those that had been checked out and were within people's homes, were burned and destroyed. The Library started anew, in what we often call the Old Main Library (or the current Asian Art Museum), but once again, they ran out of space for all the books.
Instead of waiting for another fire to "thin out the herd" of their book collection, they made a push for another move to a bigger building. Usually it is hard to muster support for libraries, but the political and financial climate were right. Sen. Diane Feinstein, then mayor of San Francisco, was supportive, and a bond measure passed to build the new library on it's present site.
The outside of the building is built in style that Rob Spoor humorously called Architectural Schizophrenia, but is really a fusion of the familiar Beaux Arts and the more dramatic Postmodern styles. Beaux Arts is the same style that City Hall and the other Civic Center buildings share, in order to make a uniform Civic style. The new library carries on this tradition on Larkin Street, but if you turn the corner onto Grove, you can see that it has a more dramatic style that is definitely Postmodern. I discovered a great view by accident as I exited the Bart Station off of Market and onto Grove. From this low angle, it really makes an impression!
As we walked inside, Rob explained that there were two main themes to the architecture, that of Light and Bridges. The Light was symbolic of the Light of Knowledge, in that the Library hoped to be a beacon in the darkness. That explained the high windows and the dramatic central atrium made of glass and steel, that let in natural light and conserved electricity at the same time.
The bridges, which are symbolic of bridges to better communication, were in evidence all over the library. In fact, it looked like a library constructed almost entirely of bridges. The library has six floors, but they look more like bridges than floors, with small interlocking bridges, staircases, and at least two sets of elevators connecting them. It's like something out of Science Fiction, like a library in some Star Wars or Blade Runner future.
At the same time, the building was not at all imposing or oppressive, although I did see someone dressed all in black stride by officiously. He looked suspicious. He could have been Darth Vader without his helmet, but who knows for sure?
Rob explained that there were pathways for the sight and hearing impaired. The paths for the sight-impaired are a slightly different color and texture than the other slate-typed flagstones on the floor of the first bridge you cross when entering the library from the Larkin Street side. The path for the hearing impaired leads you to a wall where the have a cool technology — a kind of "sound wall" — which sounded amazing, but which you would have to ask the library about to understand better than I did. It was all very high tech. I am no Luke Skywalker, and did not totally get it myself.
At this point I would be remiss if I did not describe the art in the library. It was innovative and modern, while remaining unpretentious. A lot of it was functional to boot! One example, called simply "Spiral Staircase," actually is a spiral staircase that connects the floors of the library and is an art piece at the same time. A nearby piece, "Cyclone Fragment" a very industrial piece of interconnecting steel, hands from the wall nearby.
We went to the sixth floor, where we were literally above the glass atrium. There was an interesting exhibit about the history of the political cartoon. I wish I had had the time to study it in more detail, and plan to revisit soon. Who knew that the Library had museum-level quality exhibits on it's sixth floor? There was also an Outdoor Terrace, with attractive walls around it, which cleverly keep the famous Sand Francisco "breezes," or more accurately, gale-force winds, from ruining the outdoor events that are often held there. Once again, who knew? Why wasn't I invited? I thought again of the strange Darth Vader-like figure, all dressed in black on the Bottom Floor. Perhaps he was behind a vast conspiracy to keep tour guides off the guest list.
The sixth floor is also where we found the San Francisco History Room. A wealth of information is to be found inside it, and Tami Suzuki, who very modestly calls herself "only a junior librarian," let it slip that she had studied archiving materials in graduate school. Don't let their humility fool you. These librarians know their stuff! Tami gave us an excellent rundown of how to do research within the History Room, which is something I recommend you do if you want to give above average tours. Tami gave me more info than I give you here, but the sagest advice she gave was to "ask a librarian for help." They usually give you more info than you know what to do with, and she explained that the process is akin to being helped by a sales assistant while shopping at Nordstrom's: you simply have to tell them when to stop bringing stuff out!
We had been very good listeners, but it must be noted here that we had not had a bathroom break in a few hours. Some of us had consumed vast quantities of soda pop. And mineral water. And homemade cookies, made personally by Abby Daniels from City Guides. I had worked with Abby before, but had no idea that she was such a good maker of baked goods, or that she worked so closely with City Guides. City Guides is a fantastic organization that does free walking tours of not just the Library, but all of San Francisco.
Abby gave a wonderful talk about their organization. I, for one, intend to take at least a few of their tours to see how THEY do it. I feel I can always improve my tour by comparing it to how other tour guides do theirs. Whenever I have a chance to sit in on someone else's tour, I jump at the opportunity to improve what I do by seeing how others might do it better.
We were getting hyper from the sugar in the cookies and soda, though, and beginning to ask too many questions in that special way that tour guides do. On top of it all, our attention spans were waning. Abby had warned us that this would happen. Maybe she had served people cookies and soda before, but I now saw why she had said earlier, in her City Guides spiel, that past studies on Adult Education had concluded that most adults were not able to retain information for over two hours.
I was in full agreement on this point, and was fast discovering that another thing that was difficult to retain for over two hours was all the mineral water I had consumed during her talk. Also, it now seemed that we, the supposedly professional tour guides, had now become so loud and amped-up on sugar that Rob Spoor had to kindly remind us that we had been "officially shushed" by other members of the Library. Humbled, tired, and once again hungry (now for lunch) we seemed to be slowly reverting back to childhood. It was time to end the tour.
We went down the elevator (some of us, at any rate) to enjoy a very tasty and reasonably priced lunch in the cafe in the basement. I discovered that they serve excellent food at bargain basement prices down there, perhaps because they really are in a basement. We asked if they gave tour guides a discount, and were given a look. The man behind the counter wore the same funereal black as the strange Vader-like fellow upstairs, and I wondered if they were in league with each other. Perhaps news of our loud and childish outburst upstairs had spread!
But how? I thought of the futuristic interiors and Star Wars-like technology I had witnessed during my tour of the Main Library. Then I saw him press a button, and some sort of whizzing sound emitted from under the counter. Slightly frightened by what high-tech gadgetry might be at work, I ate my lunch quickly, and scuttled off to the Library Bookstore, where I purchased three books for a just over eight dollars. Another bargain!
But the figures in black were circling. I think I overheard one say "security risk — cookie-addicted and sugar-addled guides still in building." It was time to leave. But I would be back. Oh, don't you worry. I'd be back. Not just for the City Guides office, or the History Room, or the helpful staff, except for those two clone-types in black. I'd be back. Especially if I could get Abby to make me more of those cookies.
By Michael Crowe
Yerba Buena Gardens
September 18, 2004
Beautiful gardens, unique sculpture, and exciting architecture, make up the Yerba Buena complex. Over two decades in the making, it represents one of San Francisco's proudest civic achievements. Join City Guides tour guide Barry Gilwarg as he informs and delights us about this downtown oasis so that we can provide more descriptive commentary on our city tours.
Ghost Walk at City Hall
October 19, 2004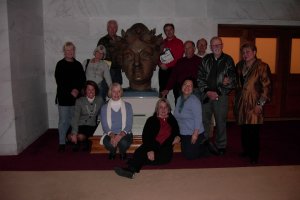 Whispers and Chills at City Hall
(It was a dark and stormy night…Really !!)
A handful of guild members gathered at 6:30pm at city hall this Oct 19th for a ghost tour. Rob Spoor was our knowledgeable docent who walked us through a few of the corridors of the facility. He recalled many interviews of employees of the city, i.e. custodians and police of the night shift. They, it turns out, are believers after working there after about six months of time… Apparently the ghosts are shy of newcomers. In time they, (the ghosts) warm up, so to speak, to the person working there and begin their whispers and footsteps when no one else is around. (of course) Cold spots, a whisper in the ear, ones own name spoken in a whisper, one's hair messed with and, of course, breathing……Oh, and the metal detectors go off on their own. Also, smells and being touched occur on random occasions.
Did you know the entire civic center sits on top of an old cemetery. The graves were disinterred in 1860 to make way for the new facilities. Apparently they didn't get all the bones as more of the bones were discovered during the renovation of the City Hall, Opera house and the old library. Many spirits remain and are somewhat displeased.
And just as we were getting in the spirit of the evening the tour was over and we all went home and went to bed. If the rest of the group did as I did, then we all went home and left a light on that night.
Btw, did you know that the city hall rotunda is the 5th largest in the world? With Washington D.C. being the 6th?!
By Jay Archibald
Tales of The Village
November 14, 2004
On November 11, in beautiful weather, our San Francisco Tour Guide Guild group followed San Francisco City Guides volunteer, Sean Timberlake, on a private walk through history, in the Castro/Eureka Valley community. We passed landmark natural and man-made sites, and listened to tales of former and current residents. First were the Ohlone people, whose original trail became Market Street. Then came the Spanish, who founded the Presidio and Mission Dolores, and whose trail between the two places crossed Market at Castro Street. The Mexicans followed next. They gave Jose de Jesus Noe, the last Mexican alcalde/mayor of Yerba Buena/San Francisco, a huge land grant in the area, called Rancho San Miguel. Sean told us about the early US settlers, such as John Meirs Horner, a Mormon pioneer who bought part of Noe's original rancho, and plotted out what still is shown on real estate documents as "Horner's Addition", bounded by Castro, Valencia, 18th and 30th streets. Sean described the later arrival of Irish, Scandinavian and Italian immigrants, and showed us Most Holy Redeemer Catholic Church, built by one of the parishes in 1901. And finally Sean told stories of the period from the early '70s to the present, about many residents of the current "Rainbow" community, created as the earlier immigrants moved to the suburbs. A sign of this evolution is that 80% of Most Holy Redeemer's present congregation is gay.
Sean described the range of architectural styles we passed along our route. Come see for yourself the eccentric Classical Revival/Queen Anne mansion, built by Alfred E. "Nobby" Clarke in 1891 for what would equal $4 million in current dollars! Sean gave an overview of Victorian and Edwardian architecture, as we continued on. Timothy Pflueger's 1922 Art Deco Castro Theater represents later building styles. On a more modern note, we saw the cut glass mural wall at Harvey Milk Civil Rights Academy elementary school, and the mural dedicated to Milk above his former camera shop at 450 Castro. It seems appropriate that this walk through history begins and ends at the intersection of Castro and Market. Here is the intersection of ancient Ohlone and Spanish trails. Yet since 1986, it also has included Harvey Milk Plaza, honoring the compassionate man who, as San Francisco Supervisor, became California's first openly gay politician, assassinated in 1978, along with Mayor George Moscone.
This only brushes the surface of San Francisco City Guides' 1 ½ hour tour. It just was created by volunteers Sean Timberlake, Ken Marquis, DPaul Brown and Vickie Giari. I highly recommend you join City Guides on this walk*. Hear about "steam dummies", cable cars and the F-Market. See Pink Triangle Park, in honor of gay Holocaust victims. Hear about Cliff's Variety store former owner, "Grandpa Ernie", whose Halloween Party morphed into the predominantly gay Castro Street Halloween extravaganza. I especially enjoyed learning that the ballad, "I Left My Heart in San Francisco" was written by two gay men, George Cory and Douglas Cross!
Thank you Sean Timberlake, and San Francisco City Guides, for a fantastic morning!
By Frances Gorman and revised by Ken Marquis